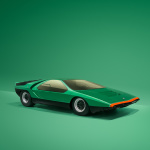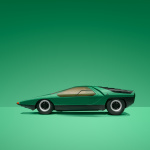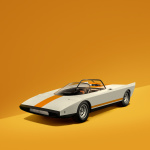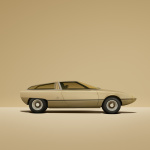 Wedged Wonders: Italian Concept Cars, 1968-79
Love triangles? Wedged Wonders unites a collection of era-defining concept cars from the famous carrozzeria, the Italian car body design houses synonymous with avant-garde vehicle styling.
In the late 1960s, these carrozzeria, such as Bertone, Pinfarina and Italdesign, would go head to head during a period of outlandish one-upmanship that would see a trend for straight lines conquering the curve.
The concept car or prototype is the definition of automotive artistry, a symbol of the direction and reputation of its creator. These show cars display new experiments in design, thinking and manufacturing, though they are often never mass produced, remaining as one-offs, ultimately defined by their rarity.
In a nation famed for its celebration of the aesthetic, the outlandish designs from the carrozzeria at the end of the 1960s and throughout the '70s would define what became known as the Wedge era, where trapezoids and triangles were king, and cars would look like spaceships.
From the legendary Lancia Stratos Zero (1970) to the lesser-known Jaguar Ascot (1977), Wedged Wonders documents many highlights from the period. Presented in chronological order, the aesthetic principles of the era can be seen to transform, from the stylishly slanted and groundbreaking Alfa Romeo Carabo (1968), through the purposely science-fiction Alfa Romeo Navajo (1976), to the angular, almost boxy, Volvo Tundra (1979), the shapes evolve with the decades. The curves of the '60s were in the past, the triangles of the '70s would have their day, and the square of the '80s was coming.